Warm days and cool nights spent around a fire define our winter life here at iKhaya LamaDube. Summer almost seems to last forever under the African sun, amongst the expanse grasslands and in the presence of nature's most wonderful creatures. Here's why iKhaya LamaDube is the ideal location for a year-round summer safari
There's a common misconception that winters in the bush are freezing and unpleasant but that's certainly not the case. In fact, iKhaya LamaDube is guaranteed to be a couple of degrees warmer than Johannesburg and Pretoria – whose winters can chill you to the bone.
Packing for a winter escape to an all-year-round African Summer Safari:
Clothing


You will need warmer clothes for the evenings and early mornings

Light Blankets


Bring an extra blanket for evenings spent at your boma around a fire to make you extra toasty and warm! Top tip – wrap your blanket around your legs when leaving the fire to pop to the bathroom or prepare dinner to retain some heat of the fire.

Sunscreen


The sun is just as harsh so don't forget a high-factor SPF and hat – even while on your game drives

A water bottle


When the temperature drops slightly we forget to hydrate. Bring a water bottle which you can refill in-between game drives

Body Moisturiser


Winter days in Gauteng are incredibly dry and if you're not prepared you can become incredibly uncomfortable. If you're staying in one of our Luxury Villas you might even wish to bring some bath oils for a moisturising tranquil time-out.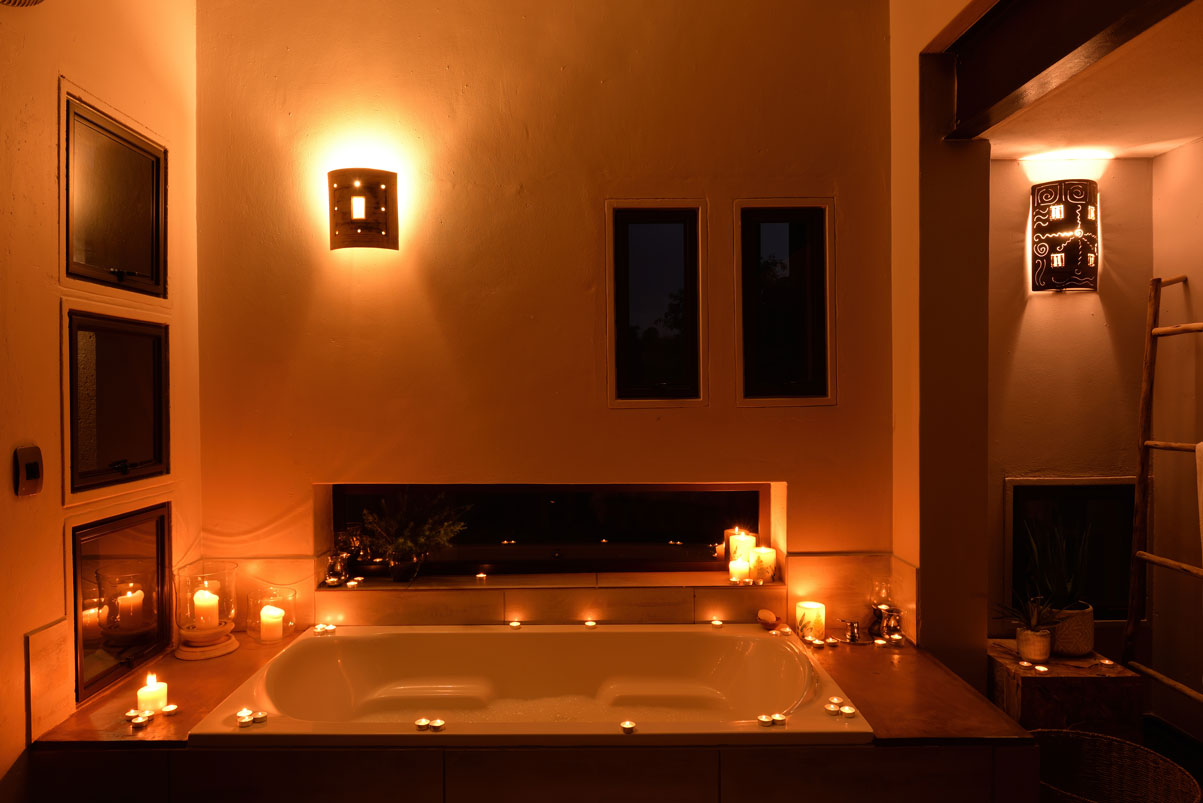 Why we love winter at iKhaya LamaDube
Greater chance to see animals
With low rainfall, the grasslands and savannah are quite dry and less dense making it quite easy to spot animals who would otherwise be hidden behind rich, dense bush and shrubs.
The skies are clearer and stars are exquisite at night


Cold air has less capacity to hold moisture making the winter atmosphere less hazy. The air is therefore drier and much clearer as opposed to the summer months.

Crisp cool mornings and evenings with warm summer days


In the mornings you can enjoy a comfortable and cosy lie-in under premium quality warm winter bedding with a cup of coffee and good book as the sun heats up the day for you to enjoy shorts and a t-shirt as if you were on a summer holiday. As the sun starts to dip, the perfect atmosphere is set to enjoy a toasty fire and glass of red wine.
It's not too hot


Anyone who has visited the african savannah during the summer knows that temperatures can sometimes climb up to 50 degrees celsius (122 Fahrenheit)! Making doing anything during the day almost unbearable and the animals are always hiding under a shady spot to avoid the harsh midday sun. During the winter days we reach comfortable temperatures of 20-23 degrees celsius.

We now have an extra toasty guest lounge to gather in
Our guest lounge is one of our newest additions to the lodge and is kitted with a fireplace, plenty of cosy couches and a coffee machine for when you're looking to meet up with other guests staying at the lodge or take some time out to enjoy a change of scenery.
Even when it's cooler, rest assured you'll be perfectly snug at iKhaya LamaDube.
While it is warmer in the reserve, we also understand that some people simply hate being on the cooler side which is why we make sure our guests are always comfortable.
All our units are kitted with energy efficient heaters to take the edge off the crisp winter evenings. Please do not bring your own heaters to the lodge
Enjoy an indoor fire and warm bath when staying in our Luxury Villas
A beautifully soft, warm and cozy throw is added to the bedding
Additional firewood is available for purchase to extend your toasty boma evenings.
Safari tent misconception
Our signature Safari Tent is one of the best-kept secrets here at the lodge. It's the perfect romantic escape for an intimate, authentic African safari getaway experience. We find, however, that in winter this gem of a unit is abandoned and forgotten about because of the misconception that it is exposed and will be freezing.
We're here to tell you that this is absolutely not the case and you can enjoy an incredible and memorable experience in our Safari tent as so many have during the summer months. If you have any concerns about booking this unit out in winter, get in touch with us and we'll help put your mind at ease!
An escape to iKhaya LamaDube is the perfect way to take the chill off cold Gauteng winter days and make summer last forever with a year-round African summer safari. To enquire about a unit or to book your stay, click here.